Description of the project
The FFU project is a large project that takes place at DTU Nanolab in the cleanroom.
All the FFUs in the ceiling of the new parts of the cleanroom need to be changed in order to maintain and optimize our facility. This is a very long and difficult process that requires time and skills.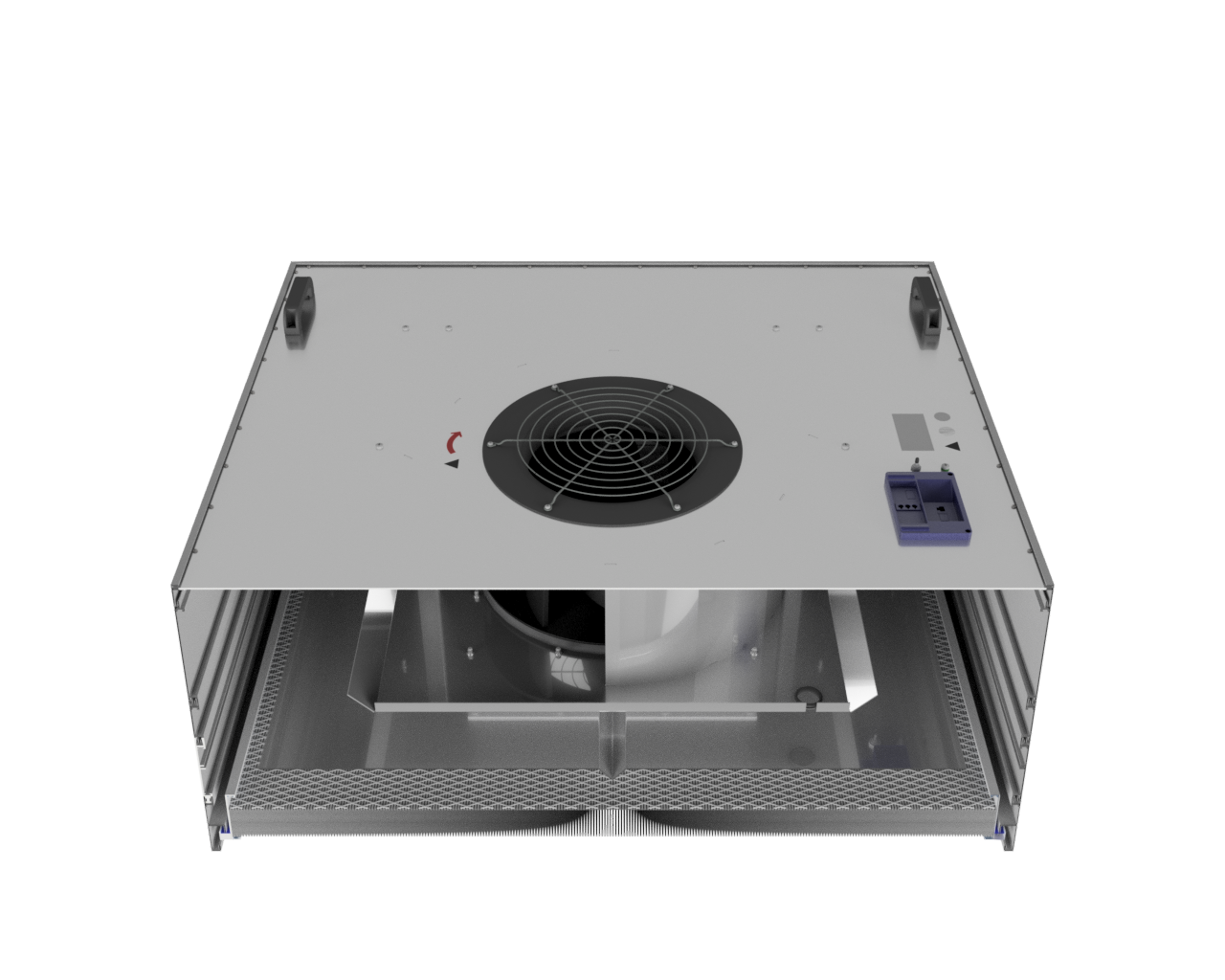 AAF FFU
The principle and structure of our new units are the same as shown in the picture
Please be aware that the below-mentioned rooms will be closed during this period. During the closure, there will be no access to the room, and all tools within it will be out of service.
So all in all, the new cleanroom (sections D, E and F) will be closed in sections from August to December 2021.
The whole cleanroom will be closed the 2 weekends 30-31 October and 6-7 November.
The provided time schedule is estimated and it will be updated continuously.
E-4: Tuesday, 5 October - Friday, 22 October


(See more info below)

D-3 west: Tuesday, 19 October - Monday, 1 November


(See more info below)

D-1: Stage 1

ALL cleanroom will be closed

from Friday 29 October 17:00 - Sunday 31 October 20:00
D-2: Thursday 28 October - Monday 8 November
D-1: Stage 2

ALL cleanroom will be closed

from Friday 5 November 17:00 - Sunday 7 November 20:00
E-2: Wednesday 1 December - Thursday 23 December (Plan is tentative for this room)
End date of project: Ultimo 2021, according to the present plan.

General info to the lithography users
E5 open again
E4 closed from 5th October to 22nd October


All SU8 processing is closed from from 5th October to 22nd October


It is possible to develop automatic with TMAH in the Developer: TMAH Stepper for 4" and 6".
Bits and pieces and 2" must wait till E-4 opens up again – NO MANUAL TMAH.
The recipes have different names, but most processes can be run at Developer: TMAH Stepper (the same gamma platform), we will not make new recipes during the closure.
If you need baking use the Spin Coater: Gamma-UV
No new training is needed (if authorized for Developer: TMAH UV-lithography), but send a mail to lithography and we will transfer the competencies.
Please be aware of bookings since the Stepper users also use this machine (ask in advance if booked).


Removal of Al for E-beam for small bits and pieces can be done by crystal bonding on 4" or in another acid/base ask for guidance.


E-beam and other development can be done in the fumehood of F-3 (stepper room) or in D-3 East Fumehood 3 or 4) when this opens.


Resist and process chemicals have been moved from E-4.
o

Most Resist and E-beam resist is moved to E-5 chemical cabinet top right shelfs.
o

Solvents (developers. Thinners etc.) are moved to BX1 chemical cabinet
o

Large resist bottles ( 1l+) have been moved to C1 (old SU-8 cabinet)


All masks, and samples from E-4 are moved to the service corridor between E-4 and E-5 parallel to the yellow corridor, ask if you lack something.


If you have any comments or questions do not hesitate to ask the Litho Team (lithography@nanolab.dtu.dk ).
D3 west
Closure of D3 West (look at the drawing to see how D3 is
divided into the two section East and West)
From 19th October to 1st November there is no access to the following:
Fume hood 5: Special purpose & nanoparticles

Fume hood 6: Si Etch 3:KOH

Fume hood 7: III-V acids/bases

Fume hood 8: III-V solvents

Wet bench 6: Resist strip

Wet bench 7: Lift-off

Electroplating-Ni – technotrans

HF Vapour Phase Etcher 01



Resist strip and lift-off can to some extend be done in fume hood 4 and 3 respectively.
There will be no other back-ups.
It will be possible to pass from gowning to section E and F by passing through D3-East.